Dzięki uprzejmości QualDrop już dzisiaj możemy Wam zaprezentować test japońskich podłoży do akwarium roślinnego i krewetkarium- Platinum Soil, Platinum Hybrid Soil PHS oraz jednego z najpopularniejszych podłoży na rynku akwarystycznym. Firma Qualdrop przeprowadziła test podłoży w celu prezentacji różnic w potencjale ich wykorzystania na podstawie jakości samych produktów oraz przyrostu roślin w nowo wystartowanych zbiornikach.
Do testów użyte zostały:
trzy akwaria Aquael Shrimp Set 30

dodatkowe oświetlenie Leddy Smart 6 W

filtry kaskadowe Aquael Versamax-3

grzałki fixzone

dwutlenek węgla z butli wysokociśnieniowej
W trzech klasycznych kostkach Aquael Shrimp został wykorzystany filtr kaskadowy, wysoko przepływowy- Versamax-3, w którym zmniejszony został wkład gąbkowy na poczet biologicznych złoży Bioceramax ultra 1200. Każde z akwariów, zostało wyposażone w jedną, dodatkową lampę Leddy Smart 6W o barwie 8000K (temperatura barwowa odpowiadająca dziennemu światłu naturalnemu).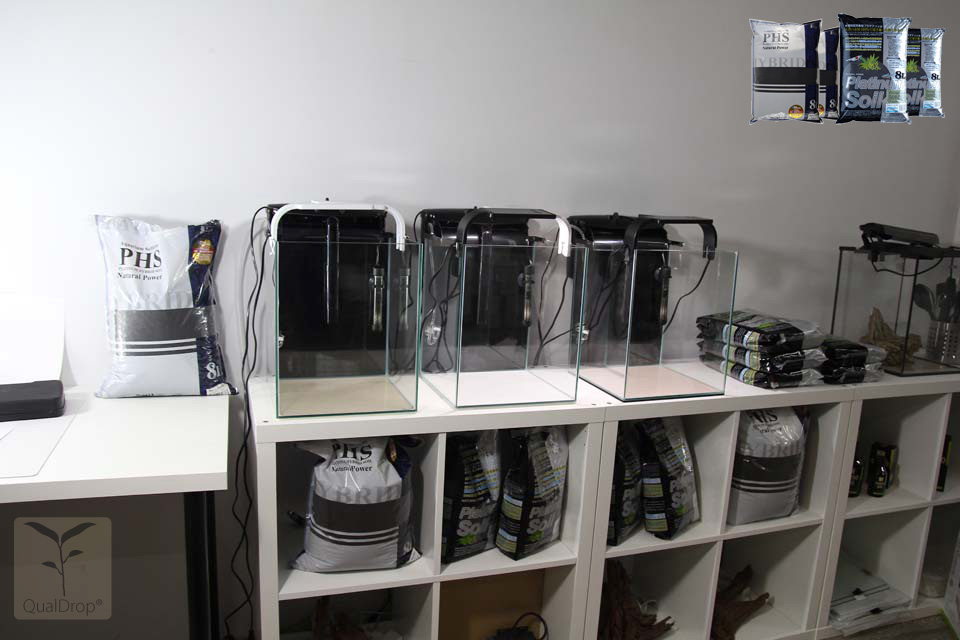 Akwarium pierwsze (lewe)
W pierwszym akwarium, dno akwarium zostało zasypane podłożem Platinum Soil w ilości 4,5l. W każdym z aranżowanych zbiorników zostały zastosowane naturalne kultury bakterii Microbe-lift Special Blend, w proporcji 1/2 dawki umieszczona na dnie pustego akwarium, rozcieńczona w wodzie do wysokości 1cm wysokości akwarium (równomierne rozłożenie bakterii w podanym podłożu). Druga część dawki bakteryjnej podawana jest bezpośrednio do słupa wody, zgodnie z zaleceniami producenta. Podczas zakładania zbiornika, przez okres 4 tygodni, podawanie bakterii powinno być stałe.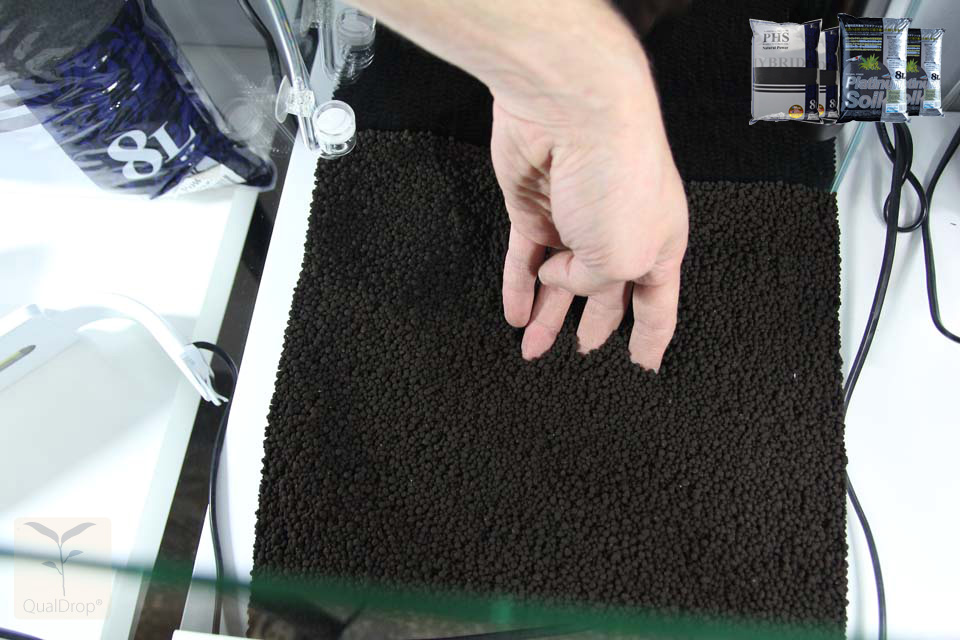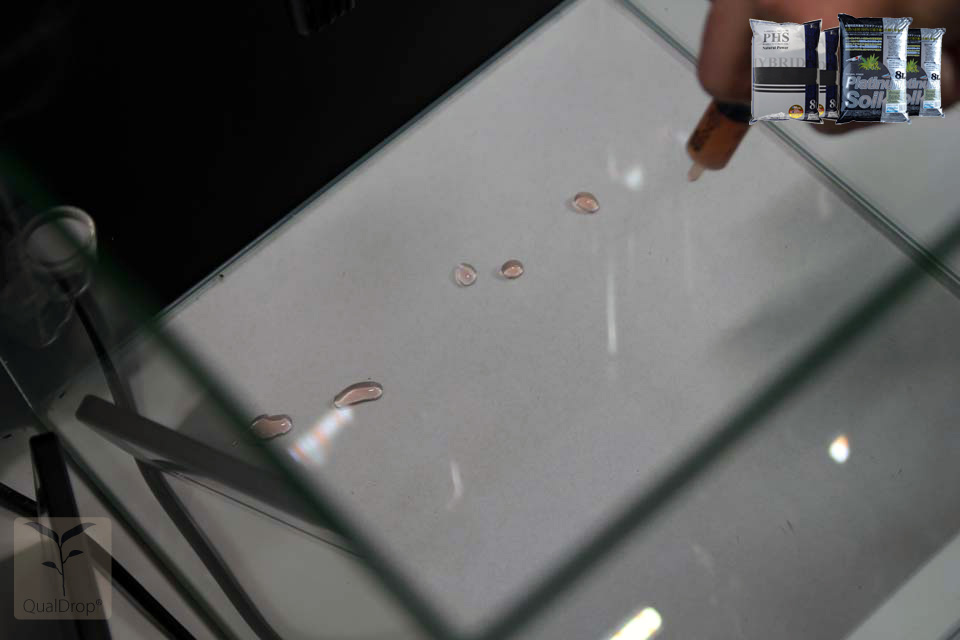 Drugie akwarium (środek)
Drugie akwarium zostało założone przy wykorzystaniu podłoża Platinum Hybrid Soil PHS. Jest to podstawowe podłoże Platinum Soil wzbogacone w system długotrwałego nawożenia. Jest to idealne podłoże przy aranżacji akwarium z bogata roślinnością, przy którym nie jest konieczne wykorzystywanie dodatkowych nawozów wspierających prawidłowy wzrost roślinności akwarystycznej.
Substancję nawożące zostały umieszczone w woreczkach, które umieszcza się warstwowo podczas wysypywania podłoża. Ilość woreczków, z których uwalniany jest nawóz wspierający powinna zostać dopasowana do parametrów zbiornika (objętości) oraz ilości obsady. W zbiornikach testowych zostały zachowane proporcje: 2 litry podłoża, 2 woreczki nawozowe przysypane podłożem w ilości 2,5l.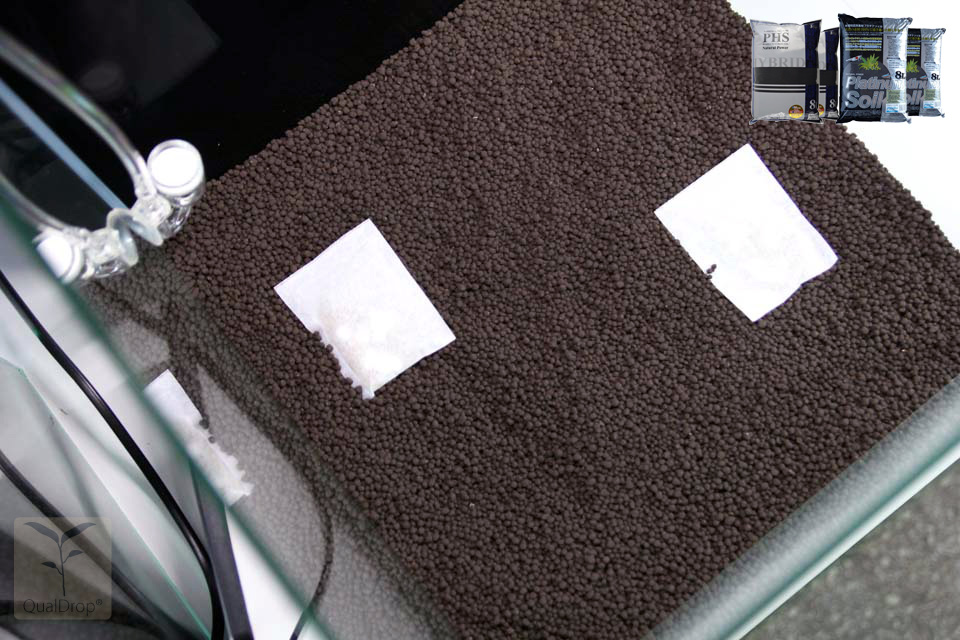 Trzecie akwarium (prawe)
Dla porównania wyników nowych podłoży Platinum w trzecim akwarium wykorzystane zostało podłoże jednej z najpopularniejszych marek produkującej elementy/produkty/akcesoria akwarystyczne.
Po wysypaniu podłoży na dno każdego z akwariów, zostały one zwilżone wodą destylowaną, w celu odpowiedniego przygotowania ich pod obsadę. W akwariach zostały wykorzystane głównie rośliny:
Hygrophila Pinnatifida,

Ludwigia Arcuata,

Anubias nana,

Hydrocotyle tripartita japan,

Rotala rotundifolia,

Eleocharis parvula.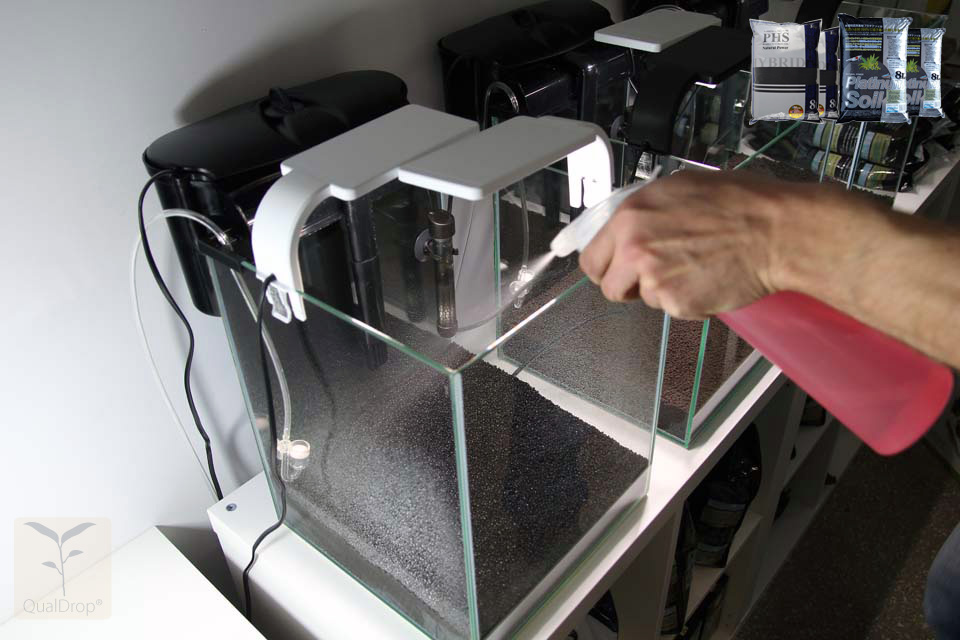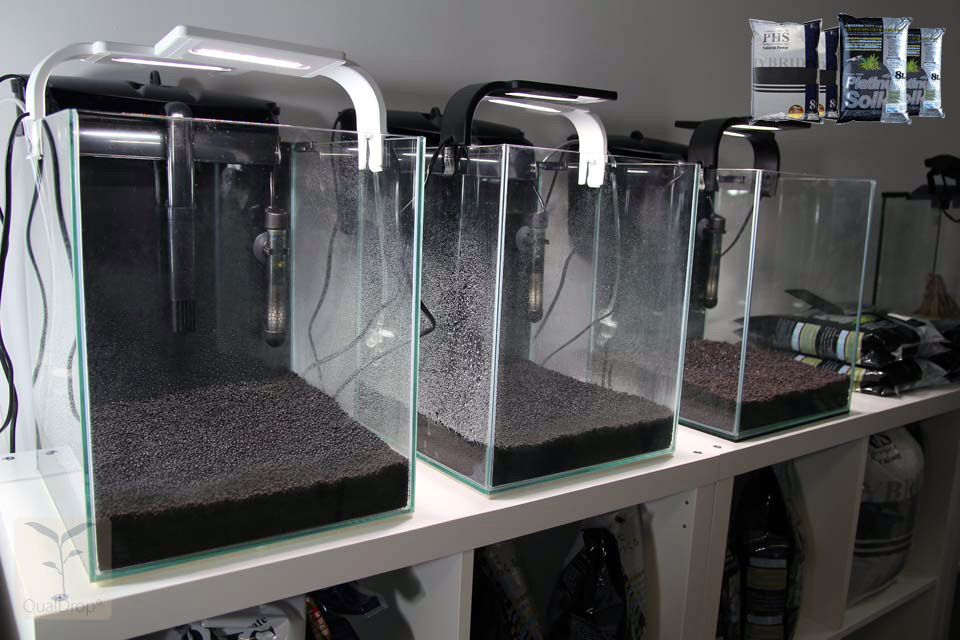 Rośliny z koszyków zostały równo rozdzielone w każdym z aranżowanych zbiorników. Jak piszą akwaryści z Qualdrop, podczas obsadzania starali się zachować równe proporcje, dodatkowo zaaranżowali każde z akwariów skałkami i korzeni magmowych, do których zostały przyczepione Anubiasy.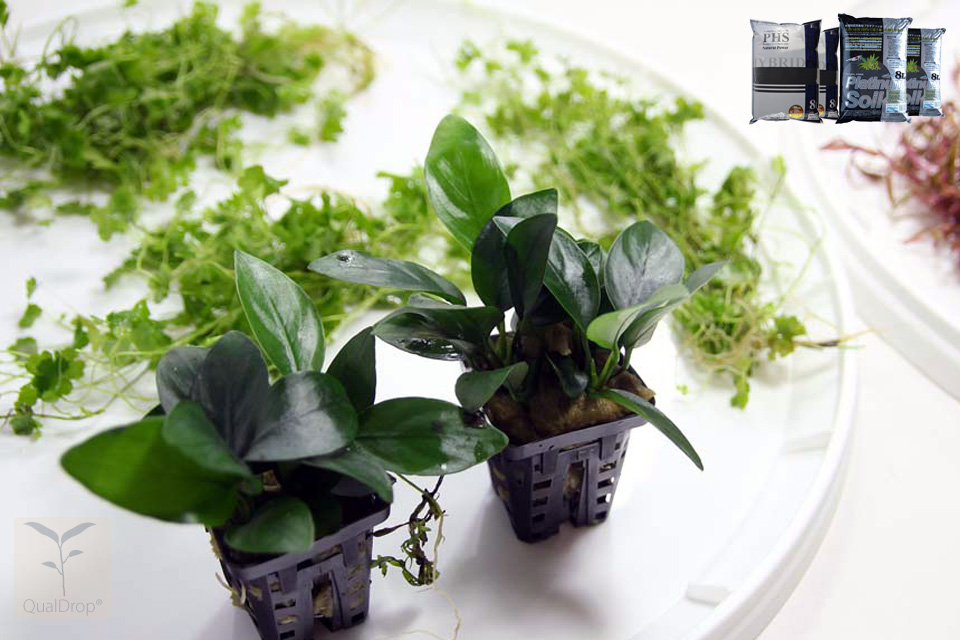 Każdy ze zbiorników został zalany wodą o tych samych parametrach H= 424,8 us, TDS=212,4 , pH=7,43, KH=4, GH=9, NO3 =0. Podczas nalewania wody do zbiornika warto w tym celu wykorzystać wężyki. Wolno podawana woda nie zmętni akwarium oraz nie naruszy struktury aranżowanego dna akwarium.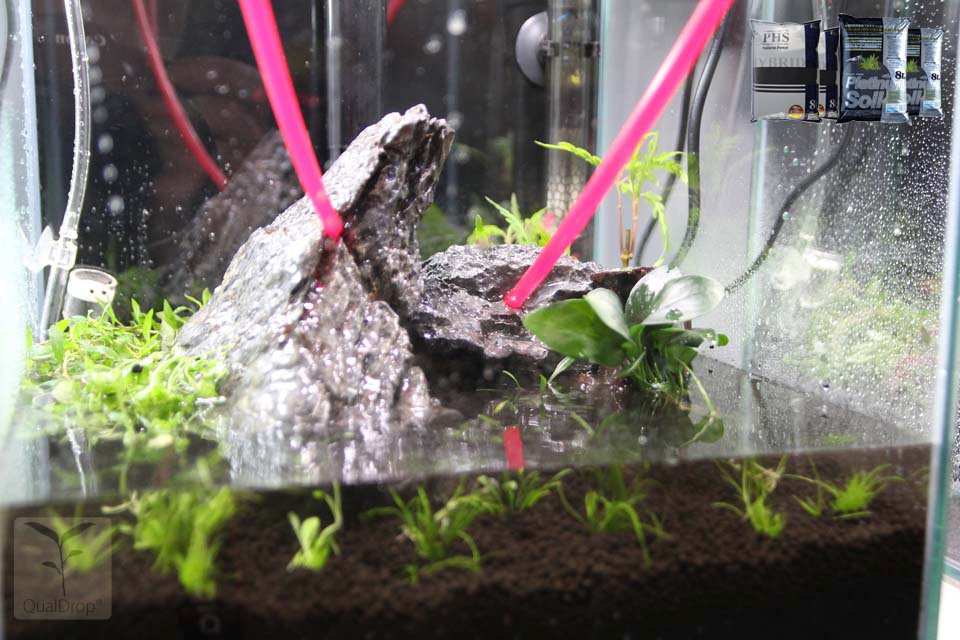 Poniższe zdjęcie prezentują akwaria tuż po zalaniu. Już na wstępie widać różnicę pomiędzy nimi. Spośród trzech aranżowanych akwariów, w tych, w których wykorzystane zostało japońskie podłoże Platinum Soil i Platinum Hybrid Soil klarowność wody jest znacznie wyższa, wyraźnie widoczne są pęcherzyki powietrza, które osadzają się na ściankach akwarium, a granulki podłoża są intensywnie czarne, co w przypadku tworzenia zbiornika aranżacyjnego ma spore znaczenie podczas tworzenia głębi czy wydobycia kontrastu.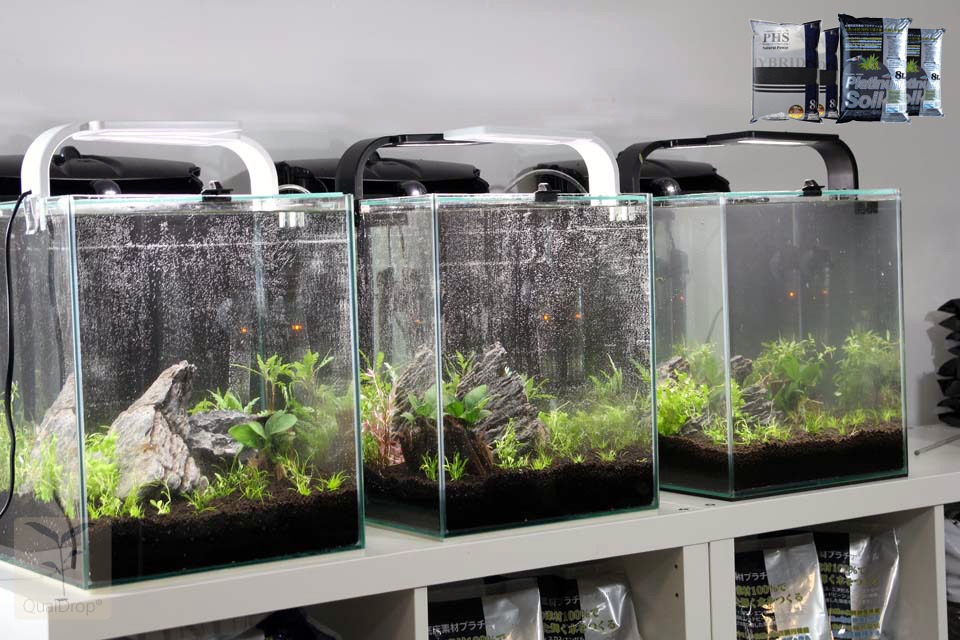 Podczas pierwszych 14 dni testu, w zbiornikach nie dokonywano żadnej podmiany wody, jedynie uzupełnienie naturalnych braków wodą RO. Stan zbiorników został poddany działaniu sił natury, w celu obserwacji procesu ich "dojrzewania", zmian stężenia jonów NH4+uwalnianych przez aktywne podłoże. Stale monitorowany był także poziom znam pH a także gH i kH.
Pomiary były przeprowadzane za pomocą testów JBL, z uwagi na wysoką jakość i pewność oznaczeń. Pomiary pH oraz przewodność zbiornika dokonywane były przy użyciu profesjonalnego sprzętu- miernika CPC 401, wyposażonego w czujnik temperatury, kalibrowanej buforami Duracal elektrody ERH-11. Do przewodności wykorzystane zostały specjalne, kalibrowane roztworami elektrody EPS-3Z.
Podczas testowania podłoży regularnie wykonywane było:
nawożenie bogate w potas, węgiel organiczny, substancje wspomagające ukorzenienie i aklimatyzację roślin, żelazo wraz z mikroelementami (w przypadku akwarium testowego, w którym znalazło się wzbogacone podłoże Platinum Hybrid Soil ilość podawanych substancji była ograniczona- szczegółowe dane znajdziecie na stronie www.qualdrop.pl 
regularne podmienianie wody w zbiorniku, przy utrzymaniu stałej wartości NO3 na poziomie 30mg/l
podawanie CO2, w zależności od parametrów twardości wody (kH)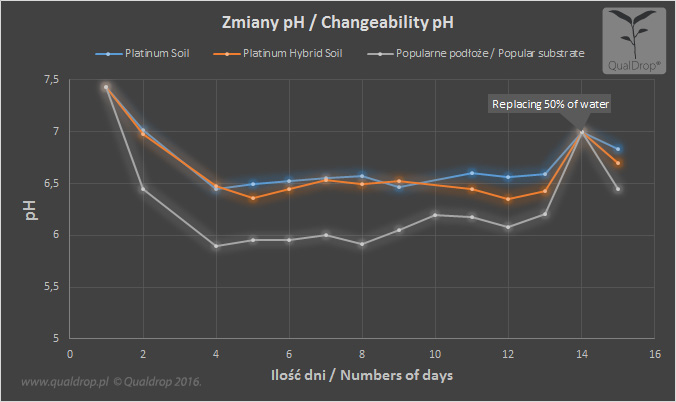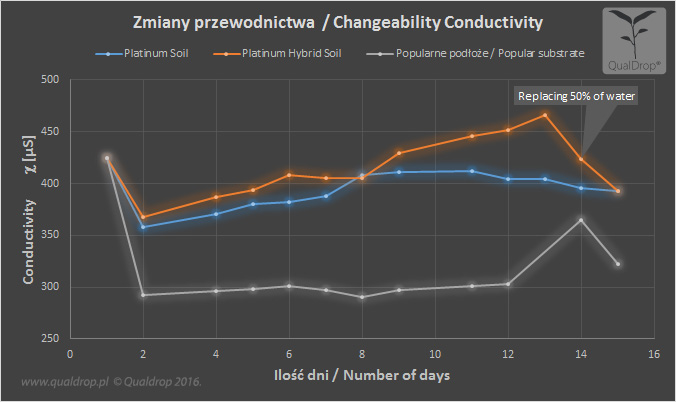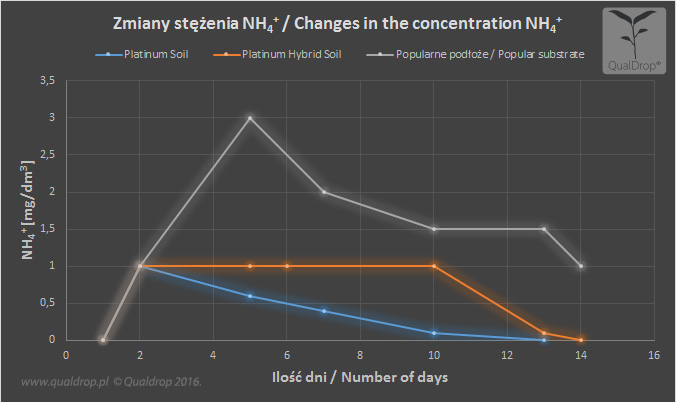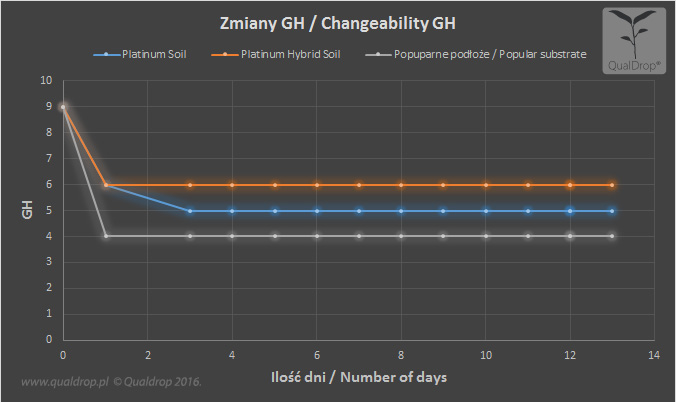 Obrazy wykresów zmian pH, przewodności, zmian NH4+ oraz zmian gH.
Na wykresach widać, że w ciągu pierwszych 14 dni od momentu założenia zbiornika, podłoża Platinum Soil oraz Platinum Hybrid Soil uwalniają prawie dwukrotnie mniej jonów amonowych niż jedno z czołowych, popularnych podłoży na rynku akwarystycznym. Zmiany ilości jonów azotowych świadczą o działaniu cyklu azotowego [więcej o cyklu azotowym- odnośnik do Poradnika]. W akwarium, w którym wykorzystane zostało podłoże "popularne" stężenie jonów azotowych spadło dopiero po 22 dniach, a wysokie stężenie azotynów utrzymywało się przez 35 dni, podczas gdy w akwarium PS i PHS w 21 dniu od momentu założenia akwarium poziom wynosił 0.
Wniosek: Podłoża Platinum pozwalają na szybsze dojrzewanie zbiornika w warunkach naturalnych bez dodatkowych stymulatorów.
Po 35 dniach od momentu założenia zbiorników do każdego z nich wpuszczonych zostało po 5 krewetek Amano i po 2 Otoski. W trakcie dojrzewania zbiornika, rośliny regularnie były przycinane (pierwsze przycięcie 43 dzień, kolejne radykalne cięcie po 70 dniach od momentu założenia zbiorników).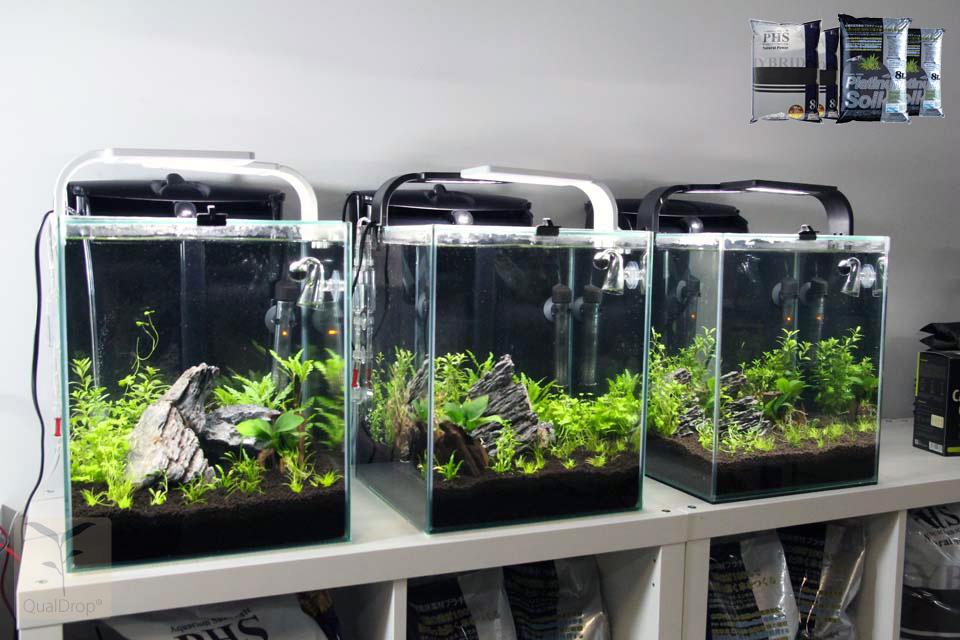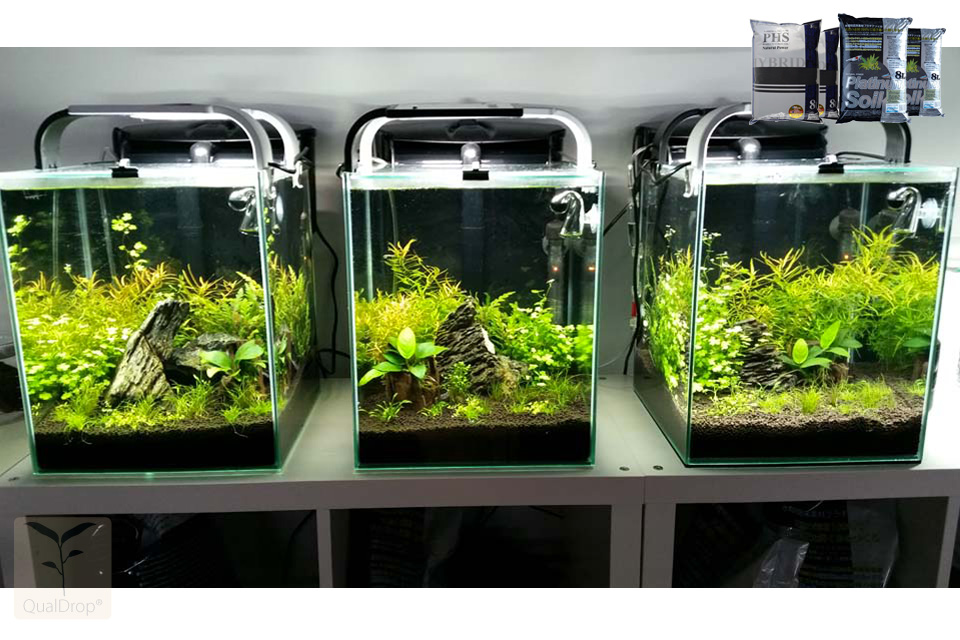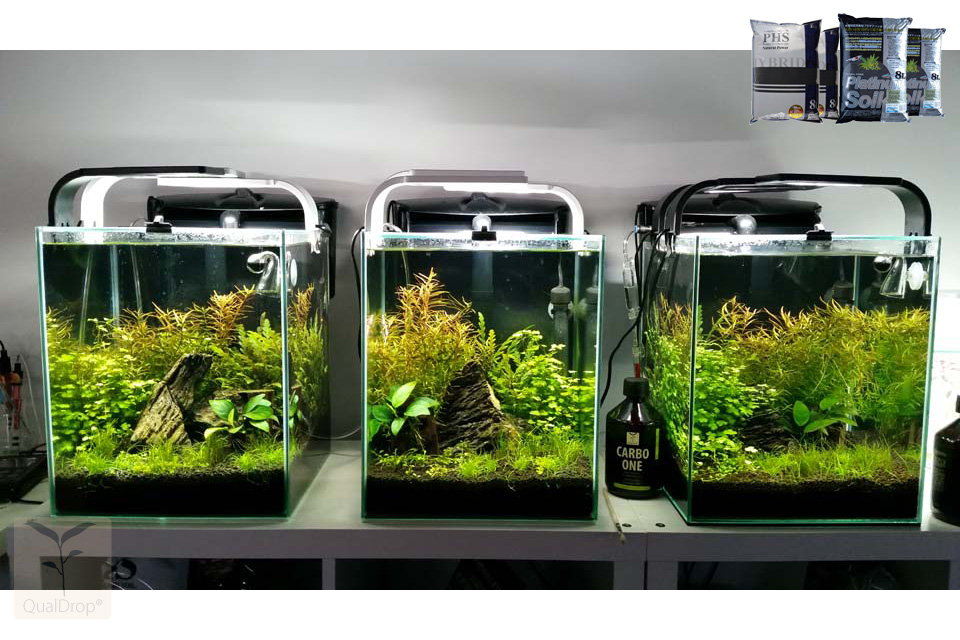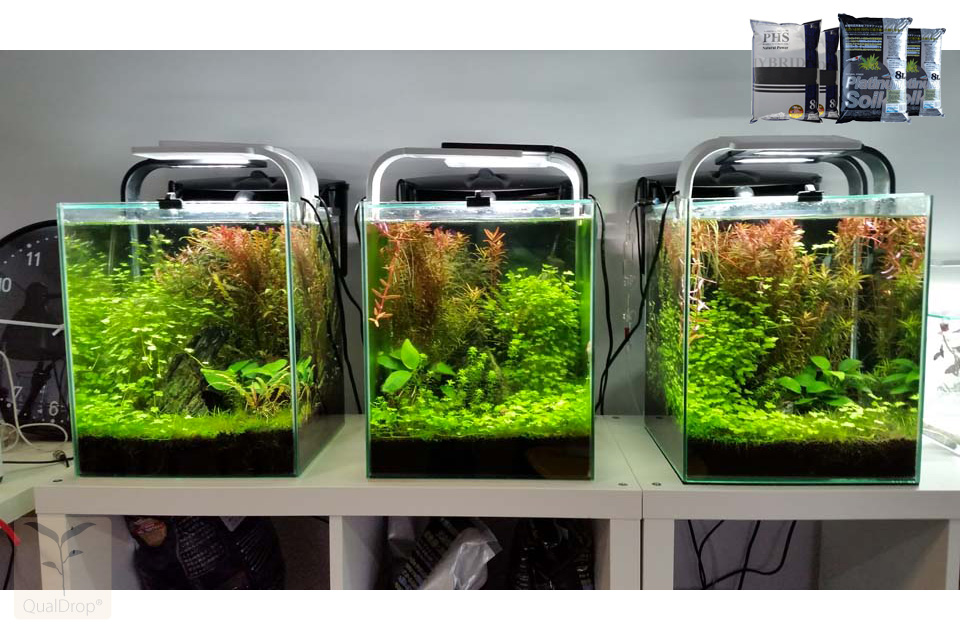 Po 100 dniach testowych akwaria zostały skasowane, w celu sprawdzenia, w jakim stopniu ukorzeniły się rośliny we wszystkich akwariach oraz jaki stan prezentuje podłoża po 3 miesiącach próby.
Podłoże Platinum Hybrid Soil po usunięciu roślin nie pozostawiło błotnistej konsystencji, nadal posiada twarde, zwarte granulki. Zarówno na podstawie popularnego podłoża jak i prezentowanych podłoży japońskich rośliny rozwinęły się dobrze- mocno rozwinięty system korzeniowy roślin na tym samym poziomie we wszystkim akwariach, stały wzrost roślin po przycince. Widoczna różnica dotyczyła przede wszystkim stopnia klarowności wody w zbiorniku oraz tempa zmniejszenia zmętnienia.
Artykuł powstał w oparciu o testy przeprowadzone przez QUALDrop
Wykonane testy w żaden sposób nie mogą być gwarancją oferowanych produktów ani przepisem na udane wykonanie akwarium ze względu na dużą ilość zmiennych parametrów panujących w akwarium takich jak: parametry wody, temperatura, objętość zbiornika, oświetlenie, nawożenie, stężenie CO2, częstość podmian wody, różnorodności roślin, użytych kamieni dekoracyjnych itp. Gwarantujemy poprawność i rzetelność danych i informacji z tych wykonanych obserwacji.